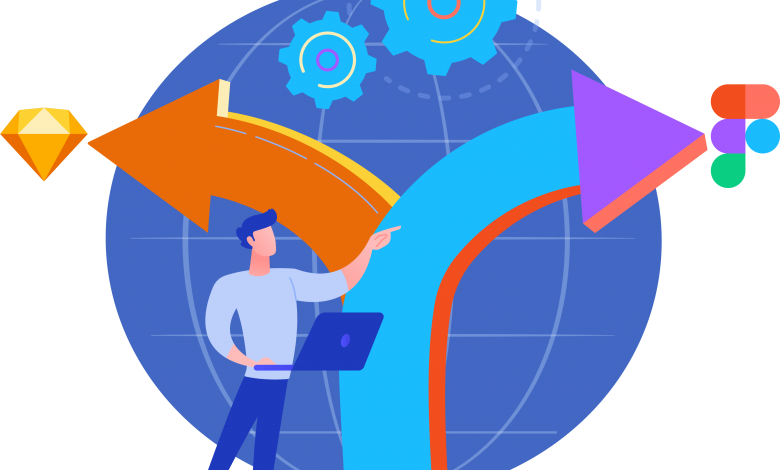 In the past when it came to web designing or UI designing the first tools that we would look for is Photoshop or Illustrator. And why not? At the time they were the most popular graphics designing tools available. So of course they would choose those.
But over time with the advancement of technology, many new tools have been created for the sole purpose of web designing. And because of these tools web designing or should I say UI designing has become a great profession through which you are even able to earn from home online. And believe me when I say that these jobs don't pay pocket change. Some of them even pay better than your daily jobs. And if you have enough experience and a solid portfolio then creating a stable income funnel is not a big deal.
Now among these tools two of which stand out the most are Sketch and Figma. Both are wonderful tools and were built specifically for web designing. Also, they had become quite popular after their release. But not everyone can be a jack of all trades at the start. You have chosen one and mastered it before trying to grasp the second. But which one to choose? And wouldn't it take a lot of time to learn a second software after master one?
Let me answer the second one first. Yeah, usually this would occur since both are completely different software after all. But luckily figma's interface is similar to sketch so when it comes to understanding the tools and their uses you would be surprised to learn how similar they are.
As for which to choose now that depends on you. But let me tell you about some of their pros and cons so that you can choose which one suits you the best.
Supported Operative System
At the end of the day, both are designing software that runs on your PC. And a PC runs on operating systems like macOS, Windows, Linux, etc. Unfortunately, Sketch is only available on macOS. And it's not free. On the other hand, Figma is a web-based software that can run on any operating system as long as it has a browser installed.
Performance
Now you might think that Figma is lightweight and runs on any browser and on any platform so its performance might be much better but if we are to talk about offline work then sorry to say it can't hold a candle against sketch. But another cool thing is since it's online you won't have to worry about saving your files as it automatically saves them after each stroke.
Plugins
Both Sketch and Figma have plugins that can help them to improve their workflow to another level. But if we were to talk about the vastness of available plugins then Sketch takes the cake. And it's quite natural if you think about it. Sketch is been around for a much longer time than Figma. Moreover, the addition of plugins was introduced quite recently. So progress is still been made. And over time it would catch up to Sketch.
Pricing
Sketch has no free version. But the thing is that once you buy it you can use it for as long as you want. Also, its license is valid for one year. But that only applies to updates nothing else. The main software once bought works even after the license expires. Only the updates stop. It's priced at $99. On the other hand, Figma offers a free version. But it allows a limited number of projects and collaborators. But there's a professional plan for $12/month which allows you to have an unlimited number of projects and collaborators. There is an organization package as well which is at $45/month.