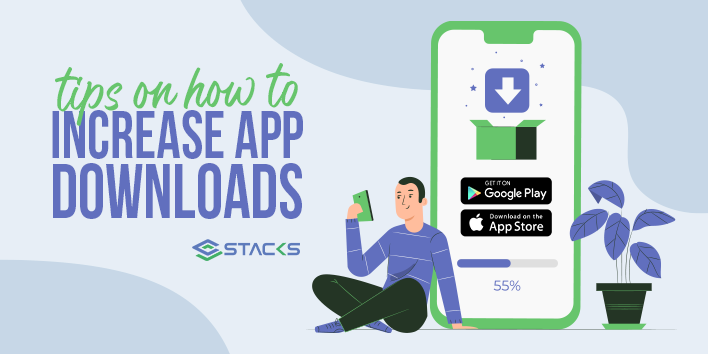 App design is not the end, it's just the beginning
We have witnessed that people think that the app design and building procedure is finished once it is launched on the appropriate platforms (stores). However, this is a great misconception that will be eradicated by our blog today. We will discuss the next stage after launching your app, which is to increase the downloads of your app. This particular blog will help you recognize the procedures involved in boosting your app downloads. We are pretty optimistic that after reading our blog, you will be able to utilize the tips discussed to enhance the growth of your mobile app. We will also discuss one of the best app builders available.
How to optimize your app on stores (Playstore & Appstore), after you have completed your App design

App store optimization might sound like an unusual term to some people. App store optimization is the process that allows you to make yourself more visible to the target audience that requires an app like yours. This increases the conversion rate of your app. Good app design can go to waste if app store optimization isn't done.

 When there are multiple mobile apps in the stores, you have to perform app store optimization to stand out and become easily discoverable. You have to climb the rankings to meet the competition. For example, suppose you want to design a food delivery mobile app. If there are many apps, you will have to do app store optimization to climb through the search rankings.
This was a little knowledge about the importance of app store optimization. So, This was a little knowledge about the importance of app store optimization. So,

Descriptive Title
Using a descriptive title has its own rewards. A descriptive title gives a clear image of what the app is about. Apart from giving an idea about the app's usage, a descriptive title can also help improve the ranking of your app. Be creative with the title. The titles on the app store and google store are different because the app store gives you 255 characters to write a title while google gives you 30 characters to write for the title
The app description plays a similar role as a website's landing page. It is a very critical part of attracting people to download your app. All you have to do is to write a clear, pinpoint, and accurate description of your app. This will direct users towards your app
Use Highly Quality Screenshots from Your Mobile App Design
Researches suggest that people often look at the screenshots of an app before actually downloading it. Make sure that you add crystal clear, high-resolution screenshots of your app.
The icon is only a single picture. You have to express all the capabilities of your app within that one picture. Make sure that you pay attention to the icon design.

To know more info about app optimization, check this article
https://www.thetechbizz.com/what-is-app-store-optimization-everything-you-need-to-know-about-it/
Choosing the Right Category

Choosing the right category is also important for app store optimization. If your app is in the right category on the app store and google store, there are more chances for it to be discovered by the users who are searching for apps categorically. This will help you get better rankings and more downloads.
For example, you have a fitness app, but it is in the gaming category on the app store and google store. The people who are looking for fitness apps will never see your app in that category, no matter how outstanding your app is, so make sure to place your app in the right category.
Encourage Positive Ratings and Reviews To enhance your app design and flow

Ratings and reviews are something that many people check before hitting the download button. You must always welcome positive reviews. They are a very valuable asset for your app's ranking and downloads.
User Experience

The user experience is defined as:
How responsive your app is and how easy it is to use for the users. By "easy," it means how easily a user can see all the information and functions of your app and navigate through them.
Good user experience means that people will recommend your apps among their social groups. This will lead to the verbal promotion of your app, which can lead to more downloads and higher demand. Check out the post below to see the tips on how to create the best user experience on your app.
https://www.facebook.com/387137545121470/posts/1273076099860939/
Focus on Your Product

The first and foremost step for every product owner is to focus on their product and give their best. The rest is upon the customers or users to give their reviews
Similarly; your first priority must be to focus on your app. Their app must not have bugs, issues, non-responsive pages, and poor customer support. If there is any one of the above problems in the app, you need to identify and eradicate it during the testing of your app.

Hire a professional designer to design an app and use a suitable mobile app builder that can achieve what you want.

Always remember to search and gather information before mobile app development. Read user reviews about apps that are similar to yours, if any. Eradicate the issues discussed by the users of the apps similar to yours. If there are any working issues in your app, even expensive marketing won't be able to rank your app or boost its downloads.

Your technological team must be ready and capable of bearing the increased demand for the app and scaling.
   I recommend You check out the Stacks builder to design your app the way you want. It has all the features that you require to make a great app for any category. Very easy to use and user-friendly doesn't require any coding.
Increase Your Organic Traffic
Paid ads are a great source to increase the traffic on your app; however, they are not the best solution. If you have just initiated a startup, you may not have the funds to promote your app via paid ads. However, you can increase the traffic of your app organically. This will not cost you money, but it will cost you time, so you must be patient.
Tips to Increase Your Organic Traffic
Ask your users to give ratings and reviews. Ratings and reviews are the greatest sources to boost the organic traffic of your app. Users always assess an app by reading its ratings and reviews before downloading it. So make sure that you ask users for ratings and reviews.

Another important aspect to organically increase the traffic on your app is to ask users to share your app among their social groups. Sharing will highly increase the organic traffic on your app. You can set a reward for the users on a specific number of shares or invites to encourage them to share the app.

App store optimization also increases the organic traffic, and it has been explained above in detail.
Gather Feedback (Learn more about your app design, usability, flow & more)
Gather feedback from the users. Discuss the app usage with them. Listen to their ideas. Apply them on your app. No one can give better ideas than the users. If a majority of users are suggesting an idea, then it is better to implement that idea on your app to get the best out of your app.
Conclusion
App design and creation don't end when you upload the app. You still have to rank the app and boost the downloads. We have discussed some important factors and tips on implementing those factors in detail. Mobile app design should be done with precise detail. You should hire a professional developer or use a compatible app builder. Stacks app builder is one of the best app builders on the market. Easy to use, user-friendly design with templates. Mobile app design can be ranked and boosted by app store optimization and other processes that are discussed in detail. We hope that you will be able to do the best for your app after reading our blog.