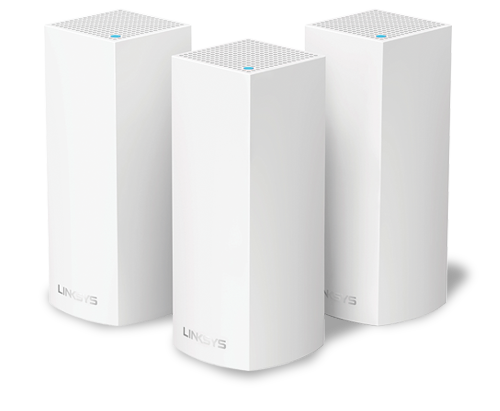 What can be more challenging than getting a reliable Wi-Fi signal in every corner of your house? Many times, having a single wireless router can provide decent Wi-Fi coverage in a small house or apartment. But it cannot provide required coverage in larger areas. Linksys Velop Mesh Wi-Fi setup can help you out in fixing this problem. Using this technology, many Velop Mesh Wi-Fi nodes can be placed at your home which eliminates the dead spots.
Features of Linksys Velop Mesh WI-Fi System:
11 AC
Spot Finder Technology.
Tri-Band Network.
Full speed with coverage.
2*2 Spatial Streams.
MU-MIMO Technology.
Next-generation AC2200.
Guest Network.
Cross-Channel Solution.
Instant Alerts and many more.
How Linksys Velop Mesh networking works:
Before you start the setup process, you must know how the hardware of the Linksys Velop Mesh networking works. The main idea behind the Linksys smart wifi setup is to have multiple Wi-Fi broadcast points to cover the whole area. It is completely different from traditional networking. Traditional networking used to have a single Wi-Fi network. But this setup will cover the entire place as per your requirement using the multiple broadcast points.
It works with one Primary Velop Node that connects to your internet provider modem and two Satellite Nodes that will broadcast Wi-Fi. The requirement of the nodes will depend upon the size of your home.
Primary Velop Node- Getting started with the Linksys Velop Mesh networking is not much different than the traditional wireless routers. All Velop Mesh networks have to start with a primary device or a router. This primary network aims at connecting to your internet provider's modem. The primary node is at a place where the Wi-Fi network of your home begins.
Secondary Velop Nodes- After starting with the primary node, this is the modular nature of the Mesh network shines. You can add up to two Velop nodes that will broadcast Wi-Fi at your home. Having multiples nodes in your home ensures that the network coverage reaches the entire home. Make sure that the nodes are placed in a way that they can wirelessly communicate with each other and create a reliable Wi-Fi signal. There are multiple types of Velop Nodes in the market such as Velop Tri-Band, Velop Dual-Band.
In this article, you will be able to understand how the Linksys router login works and how to build a mesh network in your home that will provide you maximum Wi-Fi coverage as per your requirement.
You will require:
Linksys Velop Package. You can purchase a single Velop mesh Wi-Fi node or a package of three.
Ethernet port in your modem, router, or switch.
Linksys App from Google Play Store or Apple App Store.
A tablet or smartphone for the setup process.
Linksys Velop Setup Process:
The first thing you will need is the Linksys App. Linksys App is necessary for Linksys Velop Mesh Wi-Fi Setup. You have to follow the below-mentioned steps to set up the system:
Install the Linksys Velop Setup app.
Launch the app on your smartphone or tablet and follow the instructions.
You will need to generate a Linksys smart Wi-Fi account.
Now, you will be able to view or modify Velop system settings anytime using the internet connection.
There are lots of things that you can do with your Linksys system such as Block the internet with parental controls, modify Wi-Fi name and password, and connect devices to Wi-Fi using WPS, etc.
In between the Linksys router log-in procedure, you will receive a verification email.
Click the link received in the mail and verify the account.
Advanced Settings in Linksys Velop Mesh Wi-Fi Setup:
As we have studied above, the Linksys Velop Mesh Wi-Fi system comes with a lot of advanced features. These may include the internet settings, Port settings, and Wi-Fi Mac settings.
Internet Settings- You will have an option to choose how your Linksys system connects to the internet. You will find the connection type as an Automatic Configuration DHCP, by default.
Additional Settings- Users can clone Mac Addresses and set MTU.
If you are looking to eject a large net of Wi-Fi connection, and losing a bit of speed is not acceptable, the Linksys Velop Mesh router is a big victory. With the ability to move nodes perfectly, matches the needs governed by your building, you can almost be sure that you will have Wi-Fi at any place you may roam. The Velop could also serve as a guest network, outside of your company Wi-Fi., You could be able to ensure guest users are not taking advantage of your network by making use of the control characteristics in the Linksys App. Either way, you go, the Velop is an extraordinary solution. Also, the setup procedure is very simple to conduct on your own. Be aware of the prerequisites of the system or contact our expert team in case of any turbulence.