Well, at one point, digital marketing was considered as another method of marketing. That could peddle services and goods. But we have seen how it has changed from another marketing method to an essential marketing method.
It is not only about some ads on social media or some random campaigns. But it has grown from one single channel to an entirely new domain. As the internet is growing, we can conclude that the importance of online marketing is increasing abruptly.
So why is online marketing being so important? Here, we shall discuss all the points that will elaborate on why online marketing is so essential in today's time. Let's discuss how and why it is imperative for businesses in this era.
Importance of Digital Marketing Strategy
According to a study in 2019, an average social media user had seven social media accounts. It shows that people are spending their time on social networking sites. Just imagine how many people would be using multiple social media accounts at the current time.
Just take the example of Facebook. About 22% of the world's population uses it, and 77% is from the United States. Imagine selling a product through online marketing only on this platform. Therefore, how much business does just this could bring you?
And how can we forget Instagram? 50% use it every day as well! Although it is more popular among the young generation. Five hundred million people use it daily; imagine selling your product to the millions out there. The most crucial factor regarding sales is the target audience. As a brand owner, you need to focus on the audience of your type. By that, we mean the targeted audience.
However, this tiny fraction shows how much time a random person spends on social media platforms. However, we can target even a fraction of it as a marketer, which will benefit our brands.
Levels The Playing Field
Moreover, digital marketing levels the playing field without having any typical issues or problems. As a brand owner, you would need to work on the product and the quality of the product as well.
Online marketing helps you to rank yourself in the topmost position. It does not matter either you're a mega-brand or a small business. Furthermore, digital marketing enables you to compete with your competition on a much smaller budget. And it further exposes you to a broader audience that provides a lot more opportunities for the brand to grow.
If the business is managed efficiently, it can bring tremendous business to the company or the brand if you keep looking at the benefits of digital marketing.
More Targeted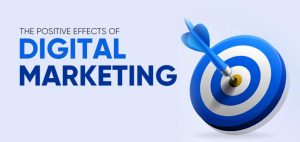 The audience in digital marketing is more targeted. As a digital marketer, it will be easier for you to target your audience. A seller knows where he needs to sell his things to whom he shall sell them. One of the most prominent factors of digital marketing is that it has allowed us to deconstruct analytics.
With the help of that, we can jot them down and target the specified people we need to target. Those people would be the ones that would likely buy the selected product. As a marketer, you need to put intense work on SEO to drive direct traffic towards the website.
Moreover, we can target people with specifications such as their buying behavior, educational background, profession, etc. This specification is not available in any marketing.
Furthermore, ads can be run at different levels. It enables us to stop a particular campaign if it is not performing well. But if the drive is performing well.
More Advanced Analytics
Ever thought about how an ad performed. Well, you cannot figure it how an ad has performed with the old-school marketing tools. But online marketing has allowed us to learn which ad has served better and which one has not.
We can figure out all the possible possibilities regarding the ad. For example, who liked the ad, how many people are interested, who spent how much time, which medium they used to get to you, and which websites they visited led them towards you.
All these factors are pretty easy to track by using google analytics and several other methods. Even you will get to know who liked your ad, who shared it with their friend, and who prompted another action.
It Aligns with How People Shop!
People nowadays consider online reviews critical before buying a particular object. 88% on the internet think it is essential to read a review of a specific product. After that, about 22% of those people visit your business.
An average American spends about 24 hours weekly online searching for products online. And teens spend nearly about 10 hours which includes their school work. With the help of digital marketing, we can understand how buyers think and what they want from the producers.
More than a billion searches are made every day. Google takes massive leads by getting about 5.1 billion search queries daily. About 8 billion videos are watched on Facebook as well. But most of these videos are related to business and other informational stuff.
Most of the readers are impatient and will not go further than five searches of the page. That is why you need to make your SEO game strong from your competition.
Reach People Through Their Business Means
Well, people are tired of old traditional marketing methods. People do not like or adore those sites that continuously pop ads. Furthermore, they want a website that does not kill their time.
And that they want to be respected. And you can do it by providing the correct information. By providing them what they want, you value them and their needs. And become part of their conversation. That is all that the consumers want.
This shows how important online marketing is. It gives you the proper sense of connectivity with your consumers. Moreover, it generates an appropriate bond that helps to make consumers into loyal customers.
Digital Marketing Integrated with Mobile Technology
Mobile searches are speeding up at an astonishing rate. By that, we can understand that mobile transactions are rising at the highest rate. It shows that people not only use them for marketing but reviews and others.
Let people know that their liked or favorite products are on sale. This makes the whole engagement process easy and engaging as well. Check the behavior of your customers as well. In simple words, all of this can increase your engagement and sell your products online to a greater extent.
Wrapping It Up!
Through all this, we can conclude that how crucial digital marketing is. Through the proper utilization of it, we can grow our business into something gigantic. It is the safest way to get the right audience. We can specify our audience to the right products according to their needs.
Furthermore, most of the audience can be found online, as I made clear in the beginning. In today's era, a business cannot survive without the help of digital marketing.
Why Should You Choose DesignVito?
DesignVito is a place where you can get your multiple tasks done. Whether it is Logo Designing, Website Designing, and Digital Marketing, suppose you are looking for a budget-friendly website to get your job done. Reach out to Designvito.